December 29, 2013 - Our three grand princesses in their new Christmas dresses.
December 25, 2013 - Merry Christmas to ALL
December 20, 2013 - While on business in Florida, Reed found some time to visit Universal Studios.
October 31, 2013 - Happy Halloween 2013 from the Haslams
October 20, 2013 - A New Family Photo.
Since October 2008, our family has grown in leaps and bounds, so we got a new family photo. Photo by Jen Dean.
September 3, 2013 - Website Changes at HTown
A new website has been launched SandyWeather.com. This is an expanded version of the weather information previously hosted here at www.theHaslams.com. Over the next few weeks the following websites will no longer be maintained here at HTown. [They will be available for others to reserve.] These include:
July 31, 2013 - The Haslams welcome the newest member of the Family - Tyson
For the Haslam family, July 31st of each year is a special day. Our newest grandchild Tyson Haslam, son of Robert and Desiree Haslam arrived at 7:26 p.m. right on schedule (or late as Des felt). Tyson weighed in at 8 pounds 12 ounces and 21" in height. Here are some photos of the new arrival.
From Father to Son through five generations: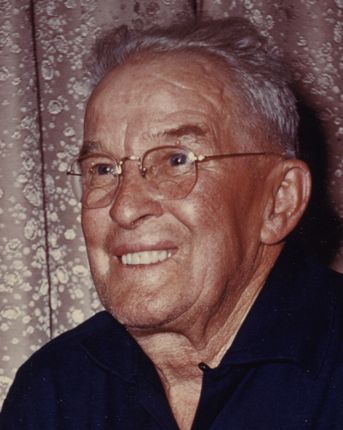 John Howarth Haslam born July 31, 1885
LeGrand Haslam born July 31, 1916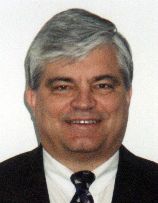 Reed Berg Haslam born 1954
Robert Reed Haslam born 1981
Tyson Grant Haslam born July 31, 2013
July 24, 2013 - Pioneer Day Parade - Salt Lake City, Utah
This year's parade had more animation than ever before. The Theme was "Anchors in our Lives" See parade photos
July 6, 2013 - The heaviest rainfall I have ever seen in Utah.
Between 5:10 and 5:25 pm today a strong thunderstorm passed over Sandy, Utah. Between 5:15pm and 5:20pm almost a half inch (0.48") of rain fell and between 5:05 and 5:30 pm almost an inch fell (0.96"). There was some pea sized hail that fell also.
July 5, 2013 - Nightly Thunderstorms have provided a good amount of water for this desert.
See the Sandy Weather Blog for more information
July 2013 - National Youth Science Camp Month
In the summer of 1972 Reed had the opportunity to be a delegate to the 10th Annual National Youth Science Camp held in West Virginia. This summer marks the 50th anniversary of the Camp which was started in 1963 as a part of West Virginia's Centennial Celebration. The camp hopes to have official declarations from all 50 states designating July 2013 as National Youth Science Camp month. Attached is Utah's declaration from Governor Herbert so designing it in the state of Utah. This summer the 99th and 100th delegates from each state will have the opportunity to attend the camp. It was at this camp that Reed was first able to program a computer. See the declaration.
June 24, 2013 - New Home Page Launched
The Haslams.com is now built on HTML 5 using Adobe Dreamweaver. You'll notice the new look on the home page now, eventually reaching all the other pages.
June 15, 2013 - Reed's Missionary Group Reunites 40 years after they first met.
Common Experiences - Strong Bonds
On June 9, 1973, twelve young men met at the mission home in Salt Lake City, Utah. Their assignment was to the Southeast Asia (Thailand) mission.  On June 15, 2013, nine of the twelve reunited in Sandy, Utah, along with one of their Thai language instructors, Sauan Sukhan. Three had traveled from southern California and one from southern Utah. They were the first group to arrive in Thailand following the creation of the Thailand Bangkok mission on August 1, 1973; under President and Sister Paul D. Morris. While not the first missionaries to serve in Thailand, they all felt blessed to have been assigned to work there when the church in Thailand was still in its infancy. Perhaps their bond was strengthened by getting together every ten weeks during their mission, to ride a van to the Cambodian border,r to briefly leave Thailand to renew their Thai visas. Two members of the group have published books about their mission experiences. Their reunion concluded with dinner at a local Thai restaurant.
May 25, 2013 - Church debuts new design
While in Kansas we visited my nephew in Wichita. Their daughter was having a graduation party held at the new Wichita Stake Center. As evidence that the Church's designs continue to get better I offer the improved design of this stake center. The plan labeled it a Heritage-19 model. It is similar to the Legacy model previously used including wide hallways, but eliminates the doors at the front on either side of the chapel that were seldom used and adds new large rooms at the rear, including one that is adjacent to the baptismal font, making large baptismal services easy to provide. The rest rooms are larger and located near the Primary and Relief Society rooms. Bishop's offices are found on either side of the chapel at the front while the stake offices are along the side Each has an adjacent family restroom accessible from the hallway.
May 24, 2013 - A visit to Adam-ondi-Ahman
The valley of Adam-ondi-Ahman is located in Daviees County Missouri, near the city of Gallatin; about an hour drive from Liberty Missouri. Our last visit to this site was in 1986. At that time there was little in the area that was marked. At that time we apparently went off church property as we got to the banks of the Grand River which runs through the valley. Someone had also built a stone altar near the river. Things are now much improved. There is now: (1) a picnic area; (2) better sign-age; and (3) gravel roads. The church owns certain parcels of the land, while other parcels are privately owned, and no trespassing signs can be found in several locations. A city plan was laid out at Spring Hill, but few homes were ever built as the Saints were "evicted" from Missouri. During the summer, youth groups visit the site and may camp overnight; otherwise, visitors to Adam-ondi-Ahman are rather limited.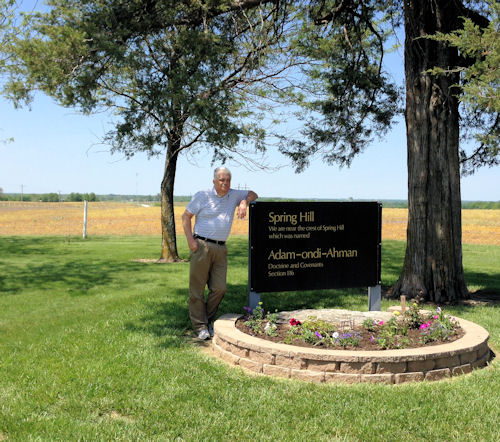 May 24, 2013 - A visit to Far West, Missouri. As the saints were being driven from Missouri, many resided for a time in Far West, Caldwell County, Missouri. Today at this location is the site dedicated for the Far West Temple (which was never constructed). Across the street is a chapel of the Community of Christ Church (formerly the Reorganized Church of Jesus Christ of Latter-day Saints."
May 23, 2013 - The Kansas City Missouri Temple
The new temple (now a year old) is located just 5 miles from Liberty Missouri. A new stake center was built on site for the Liberty Missouri Stake. Such stake centers are always large and of non-standard design. The exterior of the temple is similar in color (tan) to that of the Oquirrh Mountain Utah Temple in South Jordan. The layout on the interior is very similar to that of the Brigham City Utah Temple. White oak from "Adam-ondi-Ahman" was used for interior trim, but it was stained dark in color to match trim on other temples. The photo below was taken near dusk on May 24, 2013. The late hour brightened and enhanced the exterior color of the building. The church hopes that a nice subdivision will grow around the temple, however to date, only the temple president's home has been constructed.
The Kansas City Missouri Temple
January 31, 2013 - SandyWeather.com launched
Check our new weather site: SandyWeather.com.
Robert completed his Masters in Business Administration at Carnegie Mellon University, Pittsburgh, PA. He plans to travel to Pittsburgh in May 2013 to attend graduation.